Awoken Skills
Comments

0
4,473pages on
this wiki
"Awoken Skills" are a new system introduced in Ver 6.0. Monsters with Awoken Skills have passive abilities that will activate regardless of whether it's in the Leader or Sub role on a team.
Awoken Fusion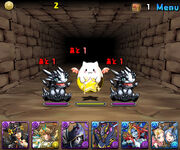 There are two ways to gain Awoken Skills, using "Power-Up Fusion": Either feed an "Awoken Monster" (currently only

TAMADRA
) to a monster, or feed it a monster with the
exact same ID number
(for instance, feeding

Susano no Mikoto
to

Susano no Mikoto
).

can be farmed from Urgent Dungeons such as
Alert! Metal Dragons!
or the Pal Machine, but they are very rare.
An Awoken Fusion has 100% success rate if correctly performed.
A monster must be fully-evolved to gain Awoken Skills, but it does not need to be Ultimate Evolved.
A monster will keep its Awoken Skills after Ultimate Evolving.

Note that if a monster's Awoken Skills change after Ultimate Evolving (such as Tsuku Yomi to 夜刻武神・ツクヨミ), it will still keep the same number of Awoken Skills as it had before (so will become ).

Awoken Skills are cumulative, so if you feed Water Deity Holy Isis with 2 Awoken Skills to a fresh Water Deity Holy Isis, the new monster will end up with 3 Awoken Skills. Note: These monsters have to be the same. You cannot awaken a goblin and feed it to a god.
Each monster has a specific list of Awoken Skills that will unlock in turn. For instance, Firedragon Tyrannos gets , then , then finally . You can check this list on your monster's in-game info screen.
For a full list of monsters with Awoken Skills, see Awoken Skills List.
Awoken Skill Types
Awoken Skill effects will stack, so if you have more than one of the same skill on your team (or on the same monster, even), their effects will be even stronger.
| ID | Skill | Effect |
| --- | --- | --- |
| 01 | Enhanced HP | HP +100. |
| 02 | Enhanced Attack | ATK +50. |
| 03 | Enhanced Heal | RCV +30. |
| 04 | Reduce Fire Damage | Take 2% less damage from Fire type enemies. |
| 05 | Reduce Water Damage | Take 2% less damage from Water type enemies. |
| 06 | Reduce Wood Damage | Take 2% less damage from Wood type enemies. |
| 07 | Reduce Light Damage | Take 2% less damage from Light type enemies. |
| 08 | Reduce Dark Damage | Take 2% less damage from Dark type enemies. |
| 09 | Auto-Recover | Heal 500 HP every turn that a match is made. |
| 10 | Resistance-Bind | 50% chance to resist Bind attacks targeted at this monster. |
| 11 | Resistance-Dark | 20% chance to resist Smokescreen attacks. |
| 12 | Resistance-Jammers | 20% chance to resist Jammer attacks. |
| 13 | Resistance-Poison | 20% chance to resist Poison attacks. |
| 14 | Enhanced Fire Orbs | Fire Orbs on the board have 20% chance to gain a +. Each matched +Orb will add 6% to attacks of that attribute. |
| 15 | Enhanced Water Orbs | Water Orbs on the board have 20% chance to gain a +. Each matched +Orb will add 6% to attacks of that attribute. |
| 16 | Enhanced Wood Orbs | Wood Orbs on the board have 20% chance to gain a +. Each matched +Orb will add 6% to attacks of that attribute. |
| 17 | Enhanced Light Orbs | Light Orbs on the board have 20% chance to gain a +. Each matched +Orb will add 6% to attacks of that attribute. |
| 18 | Enhanced Dark Orbs | Dark Orbs on the board have 20% chance to gain a +. Each matched +Orb will add 6% to attacks of that attribute. |
| 19 | Extend Time | Additional 0.5 seconds for moving orbs. |
| 20 | Recover Bind | Match a horizontal row of Hearts (6 Orbs) to reduce binds by 1 turn. Matching 2 rows will reduce by 2 turns, but the rows must not be connected. |
| 21 | Skill Boost | All team members' Active Skill cooldowns are reduced by 1 when entering the dungeon. |
| 22 | Enhanced Fire Att. | Match a horizontal row of 6 Fire orbs to add 10% damage to all Fire attacks. Matching 2 rows will add 20%, but the rows must not be connected. |
| 23 | Enhanced Water Att. | Match a horizontal row of 6 Water orbs to add 10% damage to all Water attacks. Matching 2 rows will add 20%, but the rows must not be connected. |
| 24 | Enhanced Wood Att. | Match a horizontal row of 6 Wood orbs to add 10% damage to all Wood attacks. Matching 2 rows will add 20%, but the rows must not be connected. |
| 25 | Enhanced Light Att. | Match a horizontal row of 6 Light orbs to add 10% damage to all Light attacks. Matching 2 rows will add 20%, but the rows must not be connected. |
| 26 | Enhanced Dark Att. | Match a horizontal row of 6 Dark orbs to add 10% damage to all Dark attacks. Matching 2 rows will add 20%, but the rows must not be connected. |
| 27 | Two-Pronged Attack | Monsters with this skill will attack 2 enemies at once when matching 4 attacking Orbs. |