This game content is going to change!


The content of this page differs from the newest Japanese version of Puzzle & Dragons. It will probably be added in future updates for the English version.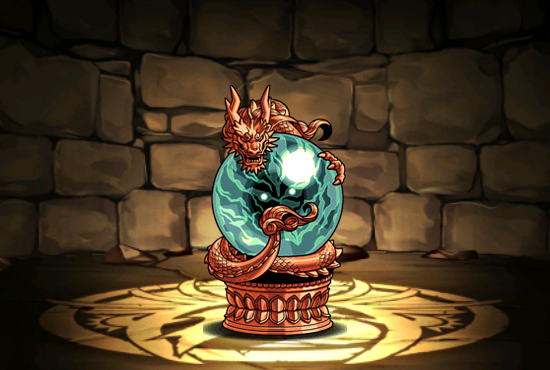 ---
Name
Holy Dragon Stone
Attribute
Dark
Type
Evo Material
Number
680
Rarity
★5
Exp to
Max Lv
0
Series
Shinra Bansyou
Basic Stats
Cost
1
Max
Lv
1
Lv

1




Price

120
Lv

1


Fodder
Exp
15000
Lv
HP
10
Lv

1


ATK
10
Lv

1


RCV
10
Lv

1




Weighted Stat

6.33

Final
HP
10
Final
ATK
10
Final
RCV
10

Final Weighted Stat

6.33

HP
Growth
-
ATK
Growth
-
RCV
Growth
-
Exp
Curve
-
Active Skill
Name
 Third Eye
Default
Cooldown
22
Min
Cooldown
17[Ref 1]
Effect
 For 1 turn, defense of all enemies is reduced to 0%. If all enemies are defeated while this skill is active, its effect will carry to the next round. Also, all Fire Orbs currently on the board will gain a +. Each matched + orb will raise the final Fire type damage by 6%.
Leader Skill
Name
Effect
Awoken Skills
None
How to
Obtain
Pal Egg
Machine
Rare Egg
Machine
Other
Dungeon
Drop
神羅万象チョコ コラボ
Evolution
N/A
Ultimate
Evolution
N/A
---
Monsters with Same Skill
Monsters in Same Series
Used to Evo these Monsters
Ref:
↑

Evolution Materials cannot Skill Up.
Player Review
What's your rating for Holy Dragon Stone?
Ad blocker interference detected!
Wikia is a free-to-use site that makes money from advertising. We have a modified experience for viewers using ad blockers

Wikia is not accessible if you've made further modifications. Remove the custom ad blocker rule(s) and the page will load as expected.