Scarlet Snake Princess
Comments

13
4,438pages on
this wiki
The fourth dungeon designed based on player surveys. You can pick up the very popular

Naga and masks for evolving fire-type monsters, including

Divine Carmine Mask.
Monster Data
No. 201
Empress of Serpents, Echidna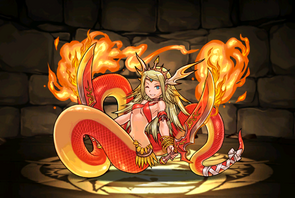 Skill





L. Skill

HP

Attack


Recover





Overall





With an extremely useful enemy-delay skill, as well as providing much-needed RCV for fire types, Echidna is a must-have for fire teams. Also invaluable in dungeons where the boss needs to be swept.
Red Snake Empress-Expert
15
6522-7112

(454/Sta)

5
3036-3603

(221/Sta)
Flame Knight
2278
2
11042
135
Lv5

Divine Carmine Mask
9999
5
18
60000
Lv1

Pyro Devil
1611
1
8819
700
Lv5


Rare

Naga
375
2
5417
40
Lv5

5
Echidna×3
3957
2
113302
192
Lv8

Red Snake Empress-Int
15
2784-3604

(213/Sta)

5
1600-1786

(113/Sta)
Flame Fighter
1140
3
3750
100
Lv10

Crimson Demon Mask
2406
8
15
4000
Lv1

Pyro Devil
864
1
4727
420
Lv3


Rare

Naga
201
2
2903
24
Lv3

5
Echidna×2
1792
2
51307
96
Lv4

Red Snake Empress-Novice
15
762-804

(52/Sta)

5
398-461

(29/Sta)
Flame Fighter
283
3
931
30
Lv3

Red Evolution Mask
228
1
5
1000
Lv1

Pyro Devil
116
1
635
140
Lv1


Rare

Naga
27
2
390
8
Lv1

5
Echidna
709
2
20309
48
Lv2

Biweekly Dungeon
Pirate Dragons
---
Artifact Dragons
---
Samurai Dragons
---
Ancient Dragons
---
Mechdragons
---
Sky Dragons
---
Legendary Dragons
---
Twitter Survey
---
Others