The Goddess Descended!
Comments

2
5,844pages on
this wiki
This dungeon is the second "Mythical" rank dungeon to arrive after Zeus Descended. The final boss is the extremely popular Healer team leader,

Valkyrie. Since she was previously only available from the Rare Egg Machine, this dungeon will surely become a fierce battleground.
Dungeon History
| Dates | Notes |
| --- | --- |
| December 23, 2013 | Merry Christmastide! |
| January 17, 2014 | Winter Wonderland |
| February 8, 2014 | Weekend Defenders |
| February 26, 2014 | Mardi Gras |
| March 19, 2014 | St. Patrick's Day |
Monster Data
No. 694
Warrior Rose, Graceful Valkyrie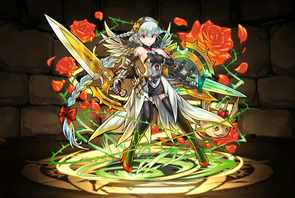 Skill




L. Skill





HP


Attack




Recover





Overall





One of the loveliest ladies in the game. Leader skill is greatly improved after Ultimate Evolution, and can be used to build a Healer Harem team (now much stronger and no longer just for looks). Also very useful in a

Light team.
No. 320
Dark Golem Mk.III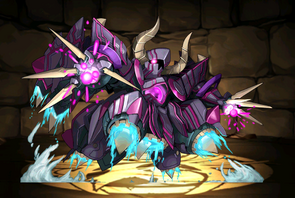 Skill




L. Skill



HP





Attack



Recover

Overall




75% armor break is an essential active skill when facing high-defense enemies. Leader skill is not very useful outside of special occasions. Overall, it's a good monster to have ready just in case.
Holy Goddess-Mythical

Edit Data
50
10018-10248

(203/Sta)

5
6084-6318

(124/Sta)
1
Pyro Devil
3480
1
19050
1400
Lv10

Frost Devil
3510
1
19200
1400
Lv10

Taur Devil
3570
1
19350
1400
Lv10

Harpie Devil
3600
1
19650
1400
Lv10

Blood Devil
3690
1
19800
1400
Lv10

2
Divine Carmine Mask
9999
6
18
60000
Lv1

Divine Indigo Mask
9999
6
18
60000
Lv1

Divine Jade Mask
9999
6
18
60000
Lv1

1 random monster from below.
Divine Gold Mask
9999
6
18
60000
Lv1

Divine Onyx Mask
9999
6
18
60000
Lv1

Mystic Mask
4000
1
15
100000
Lv1

3
Dark Golem Mk.III
13946
3
1071412
1380
Lv6

4
2 random monsters from below.
Hellfire Pyro Demon
9943
1
825127
1120
Lv7

Hellice Frost Demon
9801
1
820043
1120
Lv7

Hellwind Taur Demon
9638
1
814960
1120
Lv7

5
Great Valkyrie

Skill

1
3747689
3200
Lv8
100%

Holy Goddess-Legend

Edit Data
50
8520

(170/Sta)

5
5310

(106/Sta)
1
Pyro Devil
3480
1
19050
1400
Lv10

Frost Devil
3510
1
19200
1400
Lv10

Taur Devil
3570
1
19350
1400
Lv10

Harpie Devil
3600
1
19650
1400
Lv10

Blood Devil
3690
1
19800
1400
Lv10

2
Divine Carmine Mask
9999
6
18
60000
Lv1

Divine Indigo Mask
9999
6
18
60000
Lv1

Divine Jade Mask
9999
6
18
60000
Lv1

1 random monster from below.
Divine Gold Mask
9999
6
18
60000
Lv1

Divine Onyx Mask
9999
6
18
60000
Lv1

Mystic Mask
4000
1
15
100000
Lv1

3
Dark Golem Mk.III
11319
3
869653
1150
Lv5

4
2 random monsters from below.
Hellfire Pyro Demon
6792
1
563611
800
Lv5

Hellice Frost Demon
6694
1
560139
800
Lv5

Hellwind Taur Demon
6583
1
556667
800
Lv5

5
Great Valkyrie

Skill

1
2722378
2400
Lv6
40%

Descended Dungeon
---
Condition Limited
---
Figure Descended