Zeus Descended!
Comments

3
5,497pages on
this wiki
This dungeon is the first official "Mythical" level Technical Dungeon, with a difficulty level beyond even "Legendary" dungeons like Hera and Two Heroes. The final boss is

Zeus, who jams Heal orbs to prevent recovery and locks down God-Type monsters with Gods Gaze. If you can successfully defeat this very challenging enemy,

Zeus is guaranteed to join your team. The first four floors also have guaranteed drops.
Dungeon History
| Dates | Notes |
| --- | --- |
| January 1, 2014 | Merry Christmastide! |
| January 27, 2014 | Weekend Descends |
| February 18, 2014 | Hearts-a-Flutter |
Monster Data
No. 917
Awoken Zeus Olympios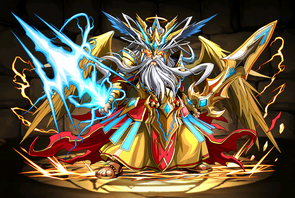 Skill





L. Skill





HP





Attack





Recover



Overall





Though he looks ugly, his power is superb. Zeus's active skill is even stronger than his wife

's, while his leader skill is a great asset against high-difficulty bosses. His ultimate evolutions require materials from an
extremely difficult dungeon
, although when you beat his dungeon Twinlits should be relatively easy to obtain.
Almighty God-Mythical

Edit Data
50
9870

(197/Sta)

5
10092

(202/Sta)
1
Flame Chimera
7650
2
34500
500
Lv10

Bubble Chimera
7440
2
33000
500
Lv10

Leaf Chimera
7200
2
31500
500
Lv10

2
Divine Gold Mask
9999
6
18
60000
Lv1

Divine Onyx Mask
9999
6
18
60000
Lv1

Mystic Mask
4000
1
15
100000
Lv1

3
Pyro Demon
5460
1
46650
2200
Lv10

Frost Demon
5490
1
48150
2200
Lv10

Taur Demon
5670
1
49650
2200
Lv10

4
2 random monsters from below.
Magma Chimera
14580
2
842100
1400
Lv10

Deep Chimera
14370
2
834600
1400
Lv10

Flower Chimera
14130
2
827100
1400
Lv10

5
Zeus
18514
1
3853936
5520
Lv6
100%

Descended Dungeon
---
Condition Limited
---
Figure Descended